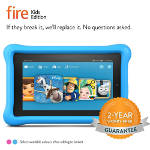 If you purchased an Amazon Fire 7" or Fire Kids Edition 7" tablet in the last few months, you may have to replace it asap.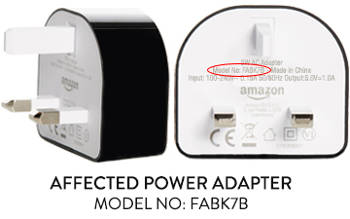 Amazon just released an alert and exchange programme involving some of its Fire tablet chargers. The company explains that they "have determined that in rare cases, when the power adapter included with the UK Fire 7" and UK Fire Kids Edition 7" tablet is pulled from the wall socket, the adapter assembly may detach and create a risk of electrical shock."
So if you bought either a Fire 7" or Fire Kids Edition 7" tablet in the UK or in Ireland since September 2015, the charger (only the charger, not the USB cable) sold with the device may have a defect. The affected adapters are the model number FABK7B, which you can check on the reverse of the plug.
If your charger needs to be replaced, you have two options. The first solution is to order a new charger and use the code 'newadapter' at checkout, or ask for a £12 credit to buy a new one. Either way, Amazon will send you a pre-paid return envelope to send back the affected adapter. In the meantime, the tablets can still be charged using the USB cable connected to a computer.
Photos: Amazon
Do you like this post ? SHARE IT :