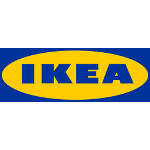 Minor cases of injury, involving two different models of ceiling lamps, have been reported to the Swedish home furniture retailer.

In a recall notice issued last week, IKEA urges its customers to "immediately remove the ceiling lamps". That's a bit brutal but quite understandable considering that the lamps involved are ceiling lampshades, which means they can fall on the ground... or worth. According to IKEA, the two models, HYBY and LOCK, present the same defect, identified as "a potential risk during installation process": not clicking the clip in place might cause tension to the shade. The same plastic clips might also break and the glass shade would fall instantly.
A total of 224 incidents of lampshades falling down have been reported to the company, including 12 in the UK, with two people having suffered minor injuries in our country. That's far from enough to justify the recall of these products. The HYBY ceiling lamp was sold since October 2012 and the LOCK model since November 2002. Obviously, both lamps are no longer available. If you own one of these items, you can return them to any IKEA store and get full refund. No receipt is required.
Photo: IKEA
Do you like this post ? SHARE IT :