Following a PETA video showing mistreatment of angora rabbits in China, the Inditex textile group (Zara, Bershka, Pull & Bear) has removed angora wool articles from its shelves and stopped their production.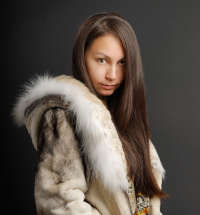 In a new victory for the animal defence organisation, PETA, the Inditex ready-to-wear clothing group has just announced that it will stop using angora wool in its collections. The Spanish multinational joins brands such as Calvin Klein, Lacoste and H&M, who froze production at the end of 2013.
Owner of the brands Zara, Bershka, Pull & Bear and Stradivarius, Inditex also removed all the products made with this fibre from its shelves, in all its stores. In a press release, PETA announced that the 20,000 concerned items (coats, jumpers, scarves...) will be given to the association Life for Relief and Development, so that they can be sent to Syrian refugees in Lebanon.
Rabbits mistreated for longer fur
The decision by Inditex and other ready-to-wear giants is a response to PETA's video and investigation diffused in 2013 on the internet, showing the mistreatment of angora rabbits. Soft and popular in winter, angora wool is made from the fur of these animals, mainly reared in China, which concentrates 90% of world production. Filmed clandestinely in one of these breeding farms, the video shows handfuls of fur ripped from animals screaming with pain. Repeated every three months once the fur grows back, this cruel method is used to gain time and obtain longer fibres than with shearing.