When a Japanese womenswear label, famous for its high quality basics, meets a French international style icon, it tickles our curiosity and the fashionista part of our brains somehow gets overheated.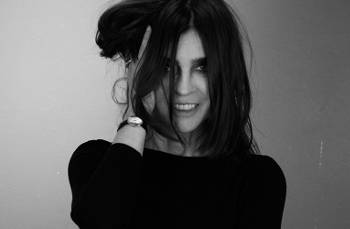 The announcement was made official a few days ago: Uniqlo invited Carine Roitfeld to design a Fall/Winter caspule collection later this year. The Japanese clothing brand is known and appreciated for its timeless, casual, minimalist yet never boring creations, at reasonable prices. Uniqlo already worked with guest star designers like Jil Sanders, Helmut Lang and more recently, Inès de la Fressange. Carine Roitfeld will be in charge, with Naoki Takizawa (Uniqlo's Design Director), of the LifeWear collection, innovative, comfy and affordable.
Carine Roitfeld resume is quite impressive. She began modeling at 18, in Paris. Then she became a writer and a stylist for the French Elle magazine. Her name has been associated with those from fashion kingdoms for a long time. Muse to Tom Ford (during his Gucci phase) or Karl Lagerfeld, consultant to Yves Saint-Laurent, Missoni, Versace and Calvin Klein amongst others... For ten years, she was editor-in-chief for the French edition of a magazine she shaped into what it is today: a style bible, Vogue magazine. Then she started to work on more personal projects, like her CR Fashion Book, launched in 2012. She also became Harper's Bazaar global fashion director the same year.
So, having such a visionary and influential figure to design a collection is a great deal for Uniqlo. Some of Roitfeld's signature style pieces are pencil skirts (no tights allowed), crispy white shirts, black (lace or leather), bold eyewear and heels. All classic items apparently, but she has her thing to make them very personal. Surely the best will to come of her very exiting collaboration with Uniqlo. The 40 pieces collection will be available in flagships and online stores from the end of October.