Selected Starbucks locations are now offering a Spotify service enabling customers to discover and save the songs played in-store.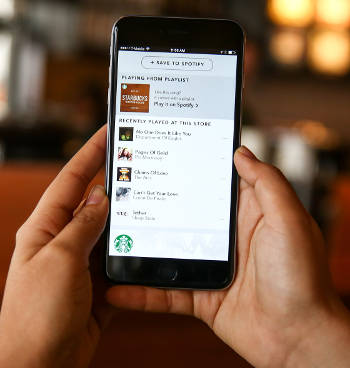 Starbucks and music share a strong relationship for a while. The coffeehouse chain started selling its own playlists on CD more than twenty years ago, but people switching to digital music and streaming services resulted in Starbucks ending the business. However, the company had an alternative in mind and announced a partnership with Spotify last May.
They call it a "New Digital Music Experience" and the service is working directly within Starbucks mobile app, available for Android and iOS. Obviously, a Spotify account is required too. Once in one of the 7,500 selected stores and hearing something customers like, they just have to open their Starbucks app and read the "Now Playing" section to discover which song is being played and add it to their playlist. Starbucks complete playlists can be downloaded and patrons can have their say in the outlet's next selections by liking tracks.
Starbucks Chairman and CEO Howard Schultz describes the idea as follows: "Today is the next era in that experience. We are merging the physical and digital, providing new access points for Spotify as they continue to grow globally, placing more control into our customers' hands and giving artists the world's largest stage for them to share their talent." Unfortunately, this service is only available in the US for now but, considering the ambition of both companies, chances are that it won't be long before it reaches the old continent.
Photo: Starbucks News
Do you like this post ? SHARE IT :