After a successful pop-up store trial this summer, Nespresso has just opened a store at Bluewater, specially designed to improve customer experience.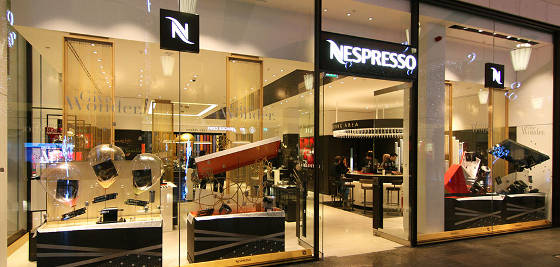 Here comes the seventh location in the UK for Nespresso: the coffee specialist just launched a permanent boutique a few days ago, at Bluewater Shopping Centre in Dartford. This opening follows the convincing trial they led this summer with a pop-up store. Now, a brand new 2,700 square foot store stands on the shopping centre's Upper Guildhall, with the dedicated vocation to offer an improved experience for Nespresso Club members and customers.
The main goal is to make the "barriers" between the staff and the customer disappear. To do so, the store is designed with more open spaces and each Nespresso Coffee specialist is able to take orders from anywhere in the boutique with a tablet. The order is ready almost immediately, considerably reducing (if not cutting) the waiting time. The store, of course, is a spot where customers can return their used capsules and pick up their purchases only two hours after an online ordering.
"We're excited to introduce our innovative boutique concept in a new and popular location" tells Francisco Nogueira, Nespresso UK Managing Director. "Our boutiques are a fantastic way for our Club Members to experience the full Nespresso brand, tasting new flavours and learning from our Coffee Specialists about our 23 Grands Crus and their origins. The introduction of this new customer concept will ensure our customers have even more time to interact with our experts and enjoy a seamless experience."
*Photo: bluewater.co.uk